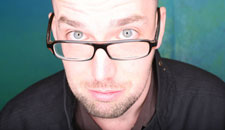 Sean found the Internet in 1991 and no one has been able to stop him building software for it since. After stints in DevOps, Development, and Product Management, he created a startup that built a system for live music called Gigbot that was acquired by Ticketfly, where he moved to San Francisco to serve as CTO and build the tech team from its first employee to 30 Product, Engineering, QA, and Ops employees. He then spent time at Eventbrite, driving its API and Reserved Seating efforts.
After his "peak SF" moment (where we went in halfsies on Google Glass and was reimbursed in Bitcoin), he moved back to Denver in 2014 to run Product and Engineering at FullContact, a Foundry-backed graduate of TechStars.
Sean is currently working on something new.
A native of Iowa, Sean enjoys gustatory explorations in Denver, getting outside in Colorado, and spending time with his (incredibly bright and good looking) children, and of course, making colorful analogies to explain things to people who are less nerdy.
You can reach sean at mail at seanporter dot com